At one or the other point in time, people have to eventually deal with the fine lines and wrinkles associated with aging, no matter how much you care for your skin. But there is some fortunate news for you. Botox on the face is a safe, effective, and quick way to get rid of lines and wrinkles.
Investing in botox means investing in your quality of life and self-confidence. All your questions concerning botox, such as How fast does botox work or does botox work immediately, will be addressed in the sections mentioned below.
Learn The 7 Top Tips For Getting Botox Results.
Basics of botox
Everyone is familiar with the fine lines and wrinkles appearing on the face caused by repeated muscles such as frowning, smiling, or moving your brow. Consequently, you can use botox as an aesthetic treatment for treating such skin issues. Botox is nothing else but just another name for a botulism microbe that leads to food poisoning. Initially, it may scare you, but it will turn out to be safe when administered in small doses for cosmetic and medical reasons. The FDA has approved the treatment for reducing frown lines and eye wrinkles.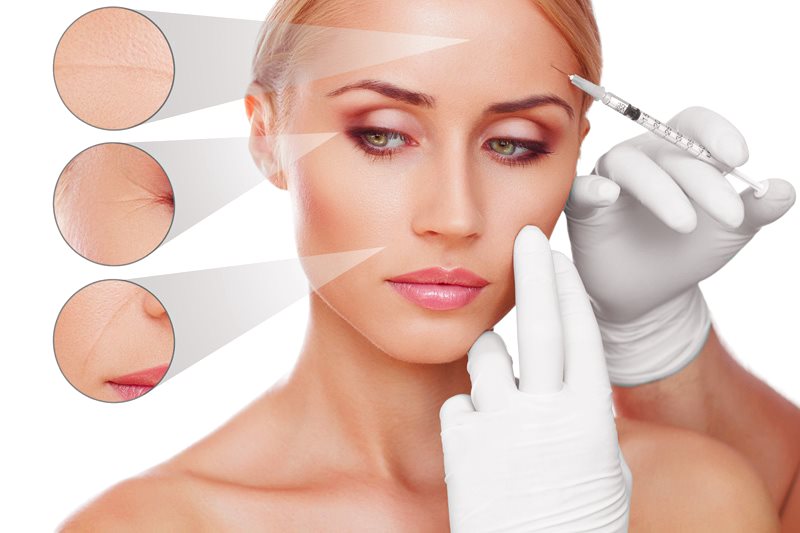 The treatment paralyzes and relaxes the muscles when getting injected into your body. Not only this, but it also soothes the fine lines and wrinkles appearing around the eyes and forehead. You can use the treatment for medical purposes also such as excessive sweating, migraines, overactive bladder, and painful muscle contractions.
For injecting the botulinum toxin into your face, the dermatologist will use a thin needle. Usually, the physician does not give any anesthetic, but a cold compress is applied if there is any discomfort.
Within a few days, you'll begin to notice the results, and those will last up to a few months. The treatment only takes place at the doctor's office, and you'll be done with it in only 10 minutes. Moreover, the treatment does not place any restrictions upon you, and you are free to resume your normal activities afterward.
Visit medical professionals for botox.
You can be sure of the botox forehead results when you get it done by some qualified medical professional. But when you opt for an inexperienced professional injects in the wrong way, it can turn out to be very dangerous and lethal. To guarantee optimal results and ensure patients' safety, we offer the highest standards of clinical care.
Move the muscles at the treatment site.
Following the botox session, you should try to grin, frown and be as expressive as you can. It will make the botox last longer and produce noticeable results.
Avoid certain products before botox.
The botox injections are likely to lead to bruising in the treated area if you take medications, including the blood thinners. One common blood thinner is Coumadin, but other drugs also have blood-thinning properties. The drugs include Motrin, aspirin, and another non-steroidal anti-inflammatory. You should not take any of these drugs for at least a week.
Be extra careful concerning the foods and vitamins you consume as they also contain some blood-thinning or anticoagulating substances. Some of the anticoagulants found in your food include cinnamon, fish oil, multivitamins, green tea, ginger, and red wine.
When you visit the doctor for a consultation, you'll come across many more things to avoid, and you should adhere to all those. Botox does not have any possible side effects, and bruising is the only common side effect.
Diet, exercise, and minimizing stress.
Looking after your skin and body will have positive effects for sure. It will also help you maintain the botox results. One way to care for your skin is to manage stress levels. More stress leads to the excess production of cortisol which further leads to bruising, discoloration, and making your skin seem thin. Not only this, inflammation and breakouts are also possible outcomes of stress only. In such a case, the best you can do is get adequate sleep, perform meditation, exercise, and relax.
Whatever you drink and eat will certainly affect your skin as your skin is your largest organ. The research conducted reveals that diet impacts your skin's appearance the most. For this, you need to stay hydrated and have a diet full of omega 3 fatty acids, antioxidants, vitamins, lean proteins, and probiotics. These nutrients can be found in fresh fruits and vegetables, fermented foods, lean meat, and fish.
No touching, rubbing or massaging the injection area.
We understand your temptation to touch your beautiful, smooth face and witness the results. But you should control your temptation. Touching the area frequently can push away the botox results to other unintended areas.
It will affect the botox's results and push the injection to other areas, leading to unwanted side effects.
Stay out of the sun
One of the emerging causes of wrinkles is sun damage. Consequently, following the treatment, you should avoid direct sunlight and always wear SPF protection on the face, neck, and hands.
Read More:- Botox Aftercare: Things you Should Avoid After Botox Treatment
Schedule Additional Treatments
Every 4-6 months, you should plan on getting additional botox treatments. Botox does not permanently help you get rid of wrinkles. Consequently, it is best to schedule your additional treatments so that the previous ones won't fade. Getting additional sessions will restrict the formation of new wrinkles as your muscles won't contract as they did before.
Call Today
Now you must have got an answer to the question- When do you see botox results? Suppose you still have some queries regarding botox results and want to determine the costs and benefits of our customized Botox treatments, including the other cosmetic procedures. In that case, you can visit the clinic situated at 50 N. La Cienega Blvd, Suite 200 Beverly Hills, CA 90211. Besides this, you can reach out at - 310.359.8832
HERE ARE A FEW MORE TOPICS YOU SHOULDN'T MISS:
A Simple and Ultimate Guide to Face Fillers
How Long Should Wait Between Coolsculpting Sessions?
Pamper your Skin With Medical Spa at Beverly Hills, Los Angeles