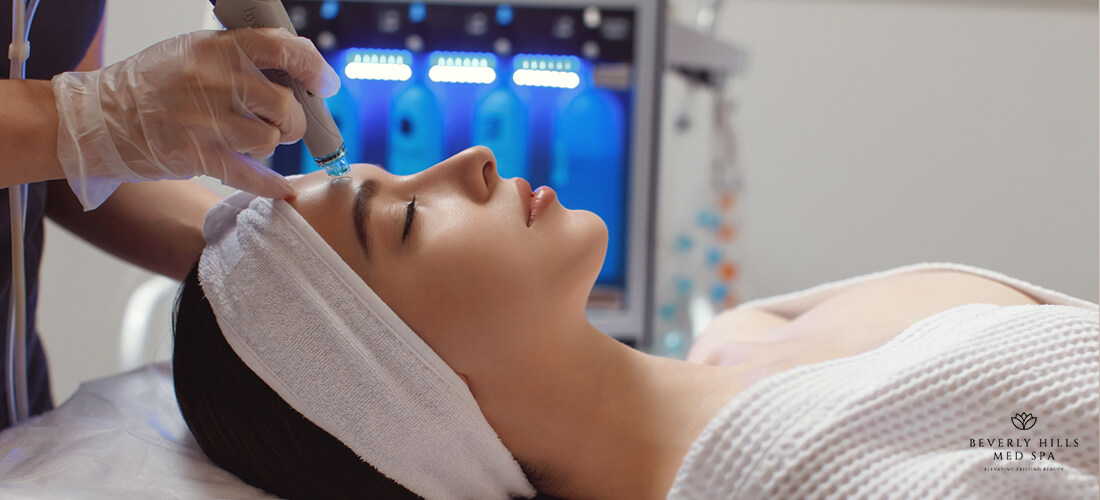 Hydrafacial rejuvenates your skin with active botanical ingredients. It is an award-winning treatment giving a deep cleansing experience and detoxifying your skin at the same time. You are sure to get glowing, radiant, and refreshed skin by availing hydrafacial treatment for yourself. The treatment is best for all skin types and concerns. Also, everyone enjoys the treatment.
Right Kind of Hydrafacial
There are six different types of hydrafacial treatments at Beverly hills medspa. One of the hydrafacial treatments is exclusive. There are six key stages of skin health for life treatment: cleansing, exfoliation, detox, extraction, brightening, skin rejuvenation, and hydration. Besides this, the treatment will refresh your dull skin and brighten it up. Also, it will protect your skin against environmental factors, leaving your skin radiant. It will also boost hydration. Also, hydrafacial benefits are vast.
Hydrafacial Treatment Signature Look
The treatment takes about 30 minutes to give you brighter and clearer skin immediately and reduces the oil present in your skin. The treatment is exclusive to Beverly Hills medspa. Also, the treatment is structured in such a way so that it cures all the fine lines and wrinkles with the help of a dermabuilder. The dermabuilder tends to stimulate collagen production and also reduce wrinkles. It also treats pigmentation with Bristol.

Read More:Why Everyone Is Obsessed With Hydrafacial Treatment?
About Dermabuilder Treatment
The treatment treats wrinkles without using injectables. Usually, it is the same as skin health for life, but there is one distinction between them. Here in dermabuilder treatment, the anti-aging serums are used. Anti-aging serums can completely heal fine lines and wrinkles to give you a youthful and plumping effect. You will discern a quick change in your complexion and skin elasticity. Hydrafacial, combined with other treatments, can help you if you are suffering from acne. For people dealing with acne, there are two types of procedures:
Hydrafacial for Acne
Usually, it is the same as skin health for life, but it also includes Glysal peel. This treatment is going to help you a lot with acne and scars that come along with it. Besides this, it regulates the oil levels caused by excessive sebum. How much peel will be used depends upon the severity of your acne and peculiar needs.
Hydrafacial Acne Pro
Acne pro hydrafacial helps to wipe out all the existing acne and prevent future breakouts. All the acne-causing bacteria are killed by Isolaz laser, whereas vacuum cleans away the remaining dirt and debris from the affected area. Consequently, cleansing each pore deeply. The only skin clinic to combine hydrafacial with Isolaz is the skin clinic, as it is the only one specializing in acne pro hydrafacial. You can book a consultation to understand which hydrafacial is best for you as our skincare experts will guide you the best.
How come Hydrafacial is different from Microdermabrasion and Chemical Peel Facial?
There are few key differences between all. For instance, there are manual extractions in microdermabrasion, whereas hydrafacial treatment uses vacuum-like tips to cleanse deeper than traditional extraction. It is also less painful. Besides this, chemical peels use acids and work best on light skin tones. On the contrary, hydrafacial suits on every skin tone.
The hydrafacial is derived from its root word known as hydrate, which means its ability to moisturize the skin. This thing separates it from the other treatments and explains the certified dermatologist named Dr. Gretchen Frieling. Without any doubt, the treatment is effective, soothing, refreshing, and non-irritating.

Read More:How Much Does CoolSculpting Cost?
Are Hydrafacials Painful?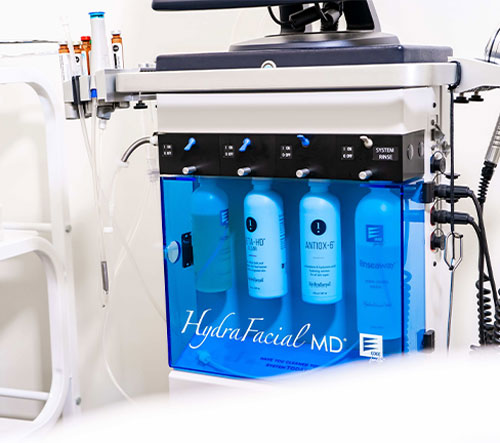 No doubt, it is a good question as most people want to know whether it is painful or not. The answer to this question is not really. The machine used in the treatment acts as a mini vacuum on your skin. Its handpiece has a vortex technology that works best on your skin. But there is one section in the treatment that can cause little discomfort to the clients, and that is exfoliation. One gets the feeling like a cat is licking the person's face. With this, one can make out that it is not much pain.
Numerous patients compare this sensation to some light massage, but it feels more like the dental cleansing. One can say that hydrafacial is moderate, meaning that it is not too painful and not too pleasant. There is the other version of another famous beauty editor named Deanna Pai. in her opinion, a hydrafacial device is a huge machine with various attachments which suck and spin. It would not be wrong to say that it will be noisy, and in case you slept during the treatment, you'll be on a different level of zen.
Is Hydrafacial safe for people with different skin types?
Usually, it can be performed on all skin types, even on extremely sensitive skin. Also, you can get the treatment customized, as said by Ostad. Our skincare expert will first understand your skincare concerns and then will recommend a personalized hydrafacial treatment for you. Depending on your condition, an aesthetician might use the exfoliator at different intensities and leave acids on your face for some time.
Hydrafacial Cost


In Beverly Hills Med Spa, the cost of hydrafacial treatment is $250 on average. But this price is not at all fixed. There are chances that some people might get this treatment for less charges than mentioned above, while others may have to pay more for the same treatment.
Consequently, the cost of hydrafacial varies from person to person. The other factors influencing the cost of hydrafacial is location and service providers. It means that the hydrafacial cost in Beverly Hills Med Spawill be different from the one in New York City. Consequently, it is difficult to say anything concerning the hydrafacial cost. Sometimes, the hydrafacial cost can drop to as low as $300-$400. On the contrary, to secure their treatment, people may have to pay around $300. Consequently, the price range for hydrafacial is between $250-$350.
People may be amazed at the vast difference in the hydrafacial cost. It is due to the difference in many factors in different patients as every patient has a unique and peculiar condition. Here's the list of some of the factors which go a long way in influencing the hydrafacial cost:
Treatments Duration
Every patient can't get their desired look in one session only. Some patients may require more sessions to get satisfactory results, and more sessions mean more cost.
Patients Needs
Some people might be dealing with acne, while others may want to get rid of uneven pigmentation. Consequently, depending on the skin condition, you may have to pay differently from what others paid.
Location
The cost of living of certain regions also decides the hydrafacial cost. For instance, in the U.S, some regions may be more expensive than others, and as a result, you may have to pay more in some regions and less in others. Consequently, it is the cost that decides the hydrafacial cost in the majority of the cases.
Is Hydrafacial Cost worth it?
On learning about the benefits of hydrafacial, it is accurate to say that its cost is worth the treatment. Hydrafacial treatment can provide you with radiant and glowing skin very fast and gives you instant results. The best thing about hydrafacial is that it has no severe side effects. Whereas other treatments do result in adverse effects, but hydrafacial does not.
It simply means that you can go for the treatment without giving a second thought about its side effects as there aren't any. It is completely understood that hydrafacial cost is on the high side. But if you will see the results, then you will completely forget about its cost. You will be amazed by its results. You will completely relate to the deal when you will see the positive changes after the hydrafacial treatment.Words can describe a lot of what you are willing to understand. You will never know whether the hydrafacial cost is worth it or not if you never try it yourself. It generally goes like this that every first comer makes the statement that he will be back again for the treatment. You can compare your hydrafacial before and after skin to be sure of its results.

Read More:Benefits of A PRP facial Treatment
Final Words
We hope that we have satisfied all your doubts concerning hydrafacial cost and treatment. But before stepping in for the treatment, keep in mind that hydrafacial is not a permanent procedure, and you may need to make a comeback if you want to preserve its results forever.It is highly advised to get the hydrafacial treatment once every three months, if not more. It will help to keep your skin look radiant, healthy, and youthful all at the same time.If you also want to improve your skin's quality and texture, then do not hurry and avail the hydrafacial Los Angeles services at Beverly hills med spa now. Schedule your appointment with us right now and enjoy the stunning look.