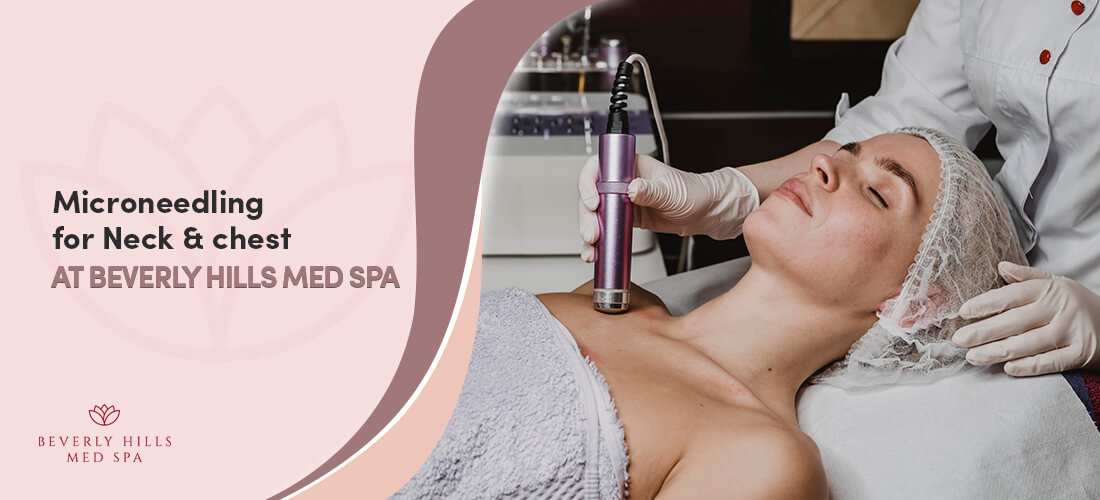 The safest and most effective skin treatment technique is microneedling, which offers minimal downtime. This skin care treatment utilizes tiny needles that penetrate the skin at the dermal level, just like in laser or dermal filler treatments. Besides treating wrinkles and stubborn scars, it is also used to remove stretch marks, hyperpigmentation, and acne scars. The chest and Neck are two body areas where microneedling is quite beneficial. The thin and delicate nature of the Neck's skin makes it prone to sun damage, wrinkles, and signs of aging. Microneedling on chest and Neck stimulates collagen production, which helps restore the skin's elasticity. Other benefits include reducing pores' appearance and removing skin blemishes and scars.
Need of Microneedling for Neck and chest
The chest and neck regions of the body are more susceptible to aging signs than the other areas of the body. The good news is that skincare treatments are available to restore the skin's youthful appearance. These skincare treatments include surgical and non-surgical procedures to rejuvenate the skin. However, if you want to achieve a desirable look by eliminating saggy, wrinkly, and crepey skin, Microneedling treatment is the best option. Microneedling is a simple skincare treatment that can be performed at med spa clinics. However, the only way to get the best results from a microneedling treatment is to get it done at a medical spa by a professional. This is because experts use advanced microneedling equipment. Performing this skin care treatment at home is more risky. The needle depth is shallower in microneedling performed at home. This makes it less painful. However, it would help to do it more frequently to achieve good results.
How to prepare for Microneedling?
You don't need weeks to prepare for a microneedling treatment. It will take only one or two days to prepare for a microneedling session. Ask our board-certified dermatologist or esthetician about the necessary preparation for a microneedling procedure. One of the ways to prepare for microneedling on Neck is to avoid direct contact with sunlight and tanning beds for at least 24 hours. To avoid direct sunlight, you may apply an intense SPF on your skin a day before the treatment. Ensure that the neck region is covered. Doing this is essential before and during the treatment to avoid skin irritations. Before undergoing microneedling, you will also need to use specific acid-based retinoids before and after treatment to prevent drying out the skin. It would help if you stopped using blood thinners one to three days before microneedling for neck therapy. On the procedure day, you must wash your Neck & chest using a gentle cleanser and apply serums; forgo lotion and perfume. Any makeup should be avoided on the day of the procedure. You can consult our experts to know more about treatment.
How is Microneedling Performed on the Neck & Chest?
During Neck & chest wrinkle treatment, we use a handheld device with several tiny needles fitted into its hand. The hands are used to create minimal injuries on the skin. Once the body realizes injuries are somewhere on the skin, it generates collagen and sends it there. The self-healing process that comes from elastin and collagen production helps to improve the skin's appearance.The body is designed to cure itself when an injury occurs. This is often done by generating self-healing proteins called collagen. During collagen production, the body produces elastin, a body component designed to improve skin elasticity. The punctures go deep into the dermis level of the skin and don't cause any damage to the epidermis. Microneedling hardly requires downtime, but you may need time off work for graceful healing and recovery.
Microneedling cost at Beverly Hills Med Spa
The cost of undergoing microneedling for the Neck & chest is between $500 and $800 per session. This is based on estimates by Dermapen. The price is often determined by the extent of treatment necessary to make the treatment work effectively. Microneedling neck cost at Beverly Hills Med Spa may go as low as $400. Also, get microneedling for the face, Neck, and chest; it will cost you only $500.Health insurance providers hardly cover microneedling because it is considered an aesthetic or cosmetic procedure. It is essential to consult your insurance provider before the doctor deems a microneedling procedure necessary. Structuring a payment plan for you by your provider makes it easier to pay for the treatment. Another cost that you need to think about is possible follow-up treatments. As much as microneedling is an effective procedure to treat the skin, touch-up treatments are necessary to make it more effective in the long run.
Expectations after Microneedling for Neck & Chest Procedure
Skin redness is typically expected within 24 hours after treatment because blood circulation increases afterward. Sensitive skin will turn bright red after the procedure. To soothe the skin and ease irritation, nourishing cream or recommended moisturizer may be applied. Cellular turnover may make the skin rough a couple of days after treatment. The skin may also develop tiny marks. This will only last for 3 to 5 days after the procedure. Although bruising and mild swelling may occur, you may use makeup to hide it.
Choose Beverly Hills Med Spa for Microneedling
Beverly Hills Med Spa offers various skin care treatments; microneedling treatments for the Neck and chest are one of them. To reduce the cost of the treatment, you may need to combine Microneedling for Neck with face treatment. The best results are often achieved at Beverly Hills Med Spa using the latest and cutting-edge tools and techniques. We work with our clients to address all skin concerns by evaluating the skin and offering personalized treatment plans for individual patients. We always consider the patient's age, skin type, unique physical characteristics, and skincare goals. Our expert will examine your skin to determine the best treatment plan to address your concerns. Call us at 310.359.8832 to schedule a consultation.
Conclusion
Microneedling is an effective skin care treatment that reduces aging signs and blemishes around the neck and chest regions. It has recently gained popularity because it has proved more effective in making the skin look youthful and smooth. It works exceptionally well around the neck and chest regions. You need to consider the location when opting for microneedling because some areas charge very high fees for the procedure, and insurance hardly covers microneedling.
Here are a few more topics you shouldn't miss:
Does Microneedling Work To Stimulate Skin and Make You Look Younger?
Is Microneedling Treatment Worth The Money?
Like this post? Don't forget to share