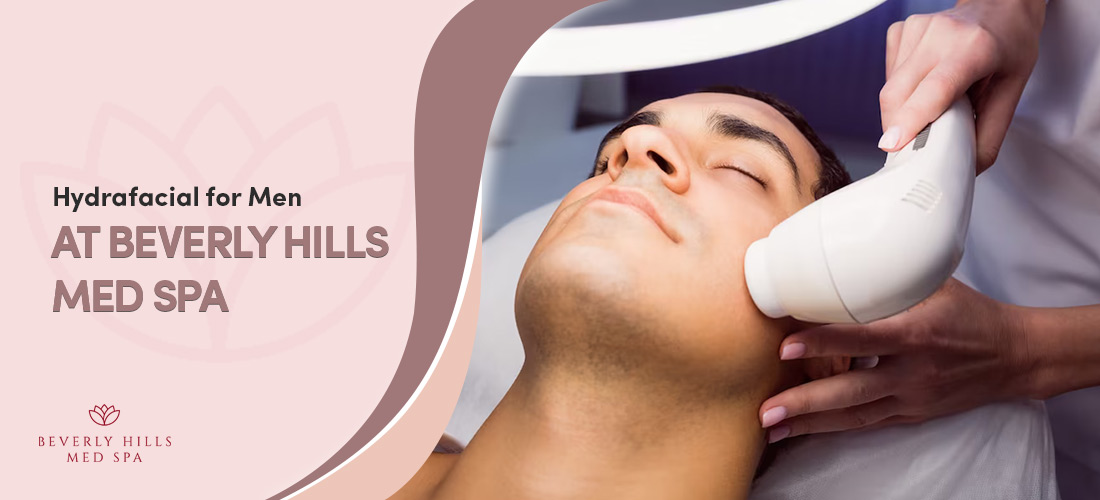 Many men nowadays are investing in their well-being and embracing self-care compared to back in the day. Skincare is one of the self-care aspects in men that is becoming more popular by the day. It is becoming apparent that men can only keep their skin young and healthy by seeking skincare treatments. HydraFacial has changed the game in the skincare industry, not only for women but also for men. Men who want to care for their skin can now enjoy hydrafacial's benefits in unlocking the secrets of radiant skin at Beverly Hills Med Spa. This medical spa facility is known for its excellent reputation of offering suitable cosmetic treatments by professionals who guarantee customer satisfaction. Cosmetic experts have realized how popular hydrafacial is becoming among men and have curated personalized Hydrafacial men treatments designed to cater to unique skin needs in men.
Why Men love hydrafacial
Hydrafacial treatment is effective and immediately provides a long-term solution to skin concerns and conditions. It involves several treatments that are done in a single session. The steps included in a hydrafacial treatment are extraction, exfoliation, and hydration. Specialized serums are used to cater to particular skin concerns. Skincare experts at Beverly Hills Med Spa have sufficient skills and years of experience to perform effective HydraFacial treatments. The instrument works by removing the upper layer of dead skin, cleansing it, and hydrating it to make it nourished, radiant, and rejuvenated. This is the best skincare treatment for:
Hydrating plump skin
Reducing fine lines
A quick skincare solution with no downtime
Treating environmental skin effects
People looking for a "lunch break" skincare treatment
Am I a good candidate for HydraFacial?
Men with skin issues like visible wrinkles or acne can opt for hydrafacial treatment without downtime. At Beverly Hills Med Spa, hydrafacial men treatments are done in a relaxing environment in less than 45 minutes. HydraFacial is an effective skincare treatment for people of all ages, faces, and skin types. It is an ideal skincare treatment that gently rejuvenates sensitive skin, with noticeable results with a single treatment session. Although this skincare treatment effectively addresses skincare needs, it is only suitable for some.
Also read:- What Should You Do to Prepare for a HydraFacial?
The procedure of hydrafacial for men
Hydrafacial for men is a skincare procedure that works non-invasively to nourish and rejuvenate the skin. Various steps are performed to exfoliate, cleanse, extract dirt, and hydrate the skin. Our experts at Beverly Hills MedSpa clinic start the hydrafacial treatment by cleansing the skin thoroughly to get rid of excess oil and dirt. The next step is the gentle exfoliation process for eliminating dead skin cells. After this process, the skin will have a much smoother complexion. After that, the doctor will extract debris from skin pores using a vacuum-like device. This process reduces the size of pores. The last step involves protecting and hydrating the skin by applying serum on the skin. The treatment produces brighter, more transparent, and rejuvenated skin without pain or downtime.
Cost of hydrafacial for men
Various factors determine the hydrafacial for men cost. The clinic's location, treatment package, and the esthetician's expertise are among these factors. Other than included costs will also influence the price. The cost of hydrafacial ranges between $250 to $350 per session. The complexity of the hydrafacial treatment also affects cost. Other factors influencing HydraFacial cost include the desired customization and the number of necessary sessions.
Also Read:- Hydrafacial Aftercare: Pre And Post Instructions For Best Results?
Benefits of hydrafacial for men
Everyone wants to look good. Therefore, it is a misconception to think that hydrafacial treatment is only meant for women. Men can also undergo this unique skin care treatment. The effectiveness and benefits of HydraFacial treatment are intended to beautify the skin and cleanse and improve its health. Skin that is healthy and attractive appeals to both men and women. Men who want to enhance their appearance can visit Beverly Hills Med Spa to learn more about the benefits that hydrafacial treatments offer for men. Here are some of its benefits:
Deep Cleansing: After hydrafacial, men should expect the removal of dirt, oil, and impurities from the skin, which helps to reduce its size.
Exfoliation: Skin exfoliation is also another benefit that you are going to get from the hydrafacial treatment, which helps to eliminate dead skin cells, promote smooth skin, and make the skin even.
Hydration: HydraFacial is also suitable for hydrating the skin, improving skin elasticity and texture, and replenishing moisture.
Pore Refinement: Helps to extract debris from the pores to unclog congested areas and reduce their appearance.
Fine Line Reduction: HydraFacial is also an ideal treatment for eliminating wrinkles and fine lines on the skin, which helps to enhance skin appearance, leaving it nourished and youthful.
Improved Skin Tone: Men who opt for the hydrafacial treatment will benefit from reduced hyperpigmentation and discoloration, which makes the skin tone even.
Why Choose Beverly Hills Med Spa clinic
Men seeking hydrafacial skincare from Beverly Hills Med Spa can expect a relaxing experience in a luxurious environment. The state-of-the-art clinic prides itself on the serene atmosphere that offers men the perfect backdrop to rejuvenate their skin and unwind. The highly experienced and skilled hydrafacial professionals at Beverly Hills Med Spa try to determine the patient's unique skin care needs before performing the hydrafacial procedure. Once men have undergone the hydrafacial for men, they establish self-confidence and relaxation that is hardly found in other skin care treatments. It is a secret weapon for men who want to feel and look good. It works for maintaining overall appearance or for special occasions.
Set up a Consultation Today
These are some benefits of hydrafacial for men at Beverly Hills Med Spa. You can also get these benefits by contacting experts from BHMS in Los Angeles, California. Our team of cosmetic experts is dedicated to offering men and women the best skin care experience and results. Besides HydraFacial treatments, Beverly Hills Med Spa offers other cosmetic procedures, including Botox injections, PRP facials, and microneedling.
We look forward to solving your cosmetic issues once you call us or book an appointment .
Here are a few more topics you shouldn't miss:
What Does a Hydrafacial Do: Does It Really Beat The Competition?
Why Everyone Is Obsessed With Hydrafacial Treatment?
Like this post? Don't forget to share