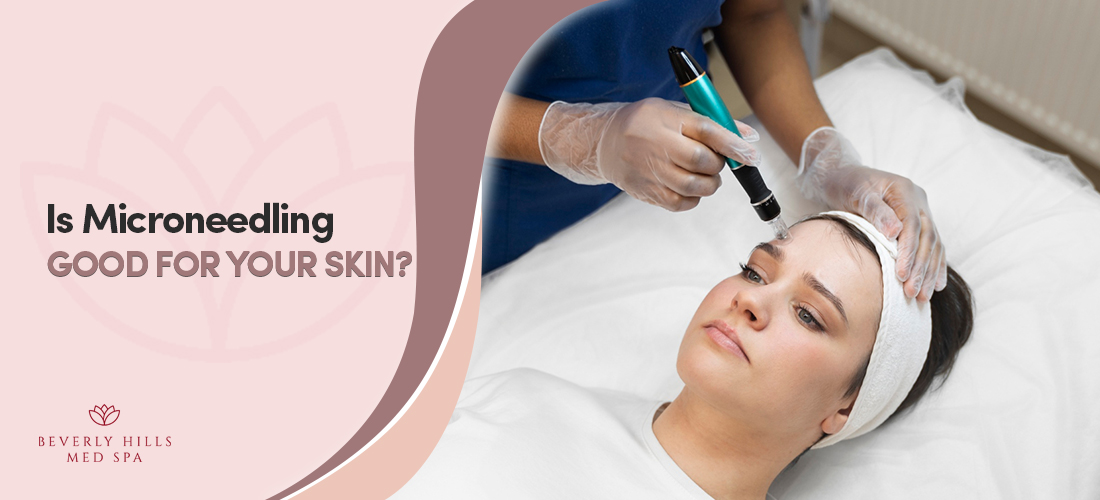 Targeting wrinkles, fine lines, hyperpigmentation, and facial scars is a common goal of microneedling. This cutting-edge procedure is frequently the solution to a variety of skin problems, including a dull complexion, wrinkles, age spots, and scars. Microneedling is a cosmetic procedure that can be carried out in a specialist's office without the need for a postoperative recovery period or general anesthesia for a variety of skin disorders.
How does microneedling work?
A quick, non-invasive procedure that boosts collagen production and rejuvenates the skin is microneedling, also known as collagen induction therapy. So, how do wrinkles, uneven skin texture, and scars benefit from having a lot of needles inserted into your deeper layers of skin? Your body interprets what you experience as mild discomfort as a physical injury, and as a result, it rapidly engages its healing process to restructure aged collagen fibers, boost collagen levels, and stimulate elastin. Granulation cells support the development of fresh skin tissue and skin renewal when the "wound" is treated.
Benefits of Microneedling
Microneedling is a minimally invasive cosmetic process that is becoming more and more well-liked because of the many advantages it offers the skin. With each microneedling procedure, up to a year's worth of lost collagen is replaced, resulting in improved skin texture and the treatment of skin problems like:
Facial wrinkles
Acne scars
Surgical scars
Stretch marks
Hyperpigmentation
Age spots
Skin laxity
Uneven skin tone
Enlarged pores
The microneedling technique increases collagen production, giving your skin a smoother texture and a more youthful appearance. Additionally, microneedling therapy tightens skin and covers acne scars on the face.
Read More: Microneedling Results - How Long Does it Take?
How long do the results last?
The body begins to mend as soon as it senses the "aggression"; therefore, the first effects are visible practically instantly. Following the procedure, your skin will appear more luminous and plump for up to two weeks, but you must wait six to eight weeks from the last session to experience the full benefits of microneedling. At this point, collagen has reached its full capacity, and its effects are visible. The effects could linger for several months. However, the majority of consumers decide to book at least two sessions a year. Up to five times a year, patients with stretch marks or burn scars may choose to get the surgery.
Always wear sunscreen outside after the treatment because your skin will be more sensitive to the sun. Follow the aftercare recommendations to reduce the risk of complications and infection. Before getting microneedling, people with open wounds should wait until the skin has healed.
Although this is an outpatient surgery, it is advisable to take it easy the day after the treatment because you can feel tight in the skin and suffer sunburn. The technique is known to promote skincare product absorption, enabling items to permeate the outer layers of the skin and enhance their effects. The major advantages of microneedling include enhanced skin appearance, fewer wrinkles, and reduced appearance of scars.
For any questions regarding Microneedling Treatment, you can visit our clinic. In Addition, call us at 310.359.8832, or Schedule an Appointment.


Here are a few more topics you shouldn't miss:
How To Get Rid Of Spider Veins And Its Causes
Is Microneedling Treatment Worth The Money?
Get An Effective Microneedling Treatment At Beverly Hills Med Spa
Like this post? Don't forget to share