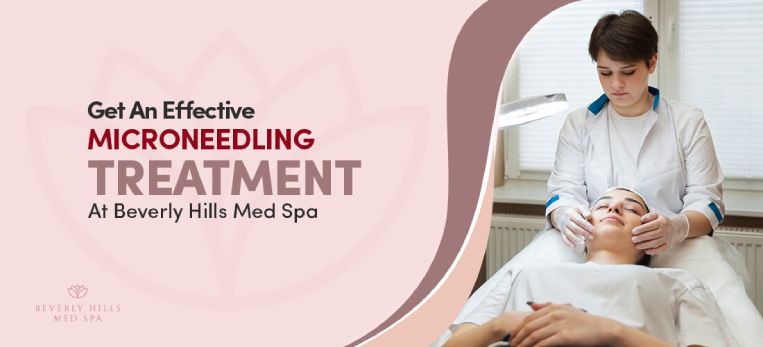 Microneedling is a unique and safe procedure used to remove skin scars and other skin blemishes. Fine needles are used in this skincare procedure to promote collagen growth. This helps to produce more youthful and healthier skin. Many people use microneedling skincare treatment to reduce aging effects. It is also a preferable choice to many because it is minimally invasive. If you are healthy and have a particular skin concern to address, then you are eligible for this procedure. Before considering other intensive skincare procedures, you need to try our microneedling treatment in Los Angeles. You need to consult our experts to get the best treatment for your skin issues.
What Is Microneedling?
Microneedling is a skincare treatment that requires a cosmetic procedure. The treatment works by puncturing the skin using very tiny sterilized needles. When these tiny injuries are inflicted on the skin, they encourage the body to produce more elastin and collagen. These two components help to make your skin look younger by healing it. Another common name for the microneedling treatment is collagen induction.
How Does Microneedling Work?
Since microneedling requires pricking the skin, our doctor will first use an anesthetic to numb the skin. This will make the procedure less painful. Micro-punctures are then created on the skin using a pen-like tool with fine stainless steel needles. Our practitioner will then apply a pure hyaluronic acid serum after finishing the microneedling treatment. The body produces more skin collagen when distressed by an injury. This helps to promote quick healing in the area that suffered injuries. Elastin and collagen help to structure that skin since they form the building blocks of the skin. These components also help to make your skin smooth and tight. Using the microneedling procedure makes the skin looks younger, vibrant, and slicker.
What is Microneedling Used for?
We recommend microneedling if you require skin rejuvenation. The skin's internal healing system is triggered once the skin gets damaged by superficial wounds. This protein helps to plump and reduce wrinkles and fine lines on the skin. Collagen is also used to refine skin texture. This is essential if you want to renew your skin. It is a perfect skincare treatment option if you want to improve the overall condition of your skin. Microneedling is a great treatment for skin rejuvenation; however, it works much better to heal skin concerns or scars related to Acne. Facialists say microneedling offers the best conduit if you require further skincare treatment. The tiny pricks created by the needles may also be used to administer quality ingredients to the skin. Some ingredients have a hard time penetrating the skin, which is where these tiny holes come in handy. This means that the products you will apply to your skin will be more effective.
Read More: Everything You Need To Know Microneedling For Dark Skin
Preparing for Microneedling
If you want to get the microneedling in our Los Angeles clinic, you first need to talk to our expert first to get clear instructions on what you need to do. This is often done through a doctor's appointment. Before the microneedling procedure, you must stop taking medication such as Accutane for treating Acne or iBuprofen. Our expert will ask you to avoid other products, including topical exfoliants and retinol, before the procedure. Agents that increase skin sensitivity should also be avoided before getting microneedling treatment.
Procedure for Microneedling
While performing the microneedling procedure, a pen-like device is used to make very tiny holes in the skin. As a patient, you probably won't notice the tiny holes once the procedure is over because they are quite small. Achieving maximum results during the microneedling requires the doctor to run the tool across the skin evenly. The pricking is bound to cause some pain; therefore, the doctor will apply topical anesthesia before using the pricking device. Anesthesia here is used as a numbing agent during the microneedling treatment. The treatment lasts for 30 minutes. Our doctor will end the treatment by calming treatment and growth serum in the treatment area. The average time needed to perform the microneedling treatment is 2 hours.
What to Expect After Microneedling?
After microneedling, there are several things that you can expect. Recovering from microneedling requires minimal time because it is a less invasive procedure. You will notice some redness and skin irritation in the first few days after the procedure. This is quite normal because you have suffered a minor injury. Before using makeup, you must let your skin heal first. You can hide the redness by applying gentle makeup as it continues to dissipate. If you feel like you are not uncomfortable after the procedure, you can resume your normal daily duties. You also need to apply sunscreen because your skin will be sensitive to the sun. You need to avoid sun exposure and chemicals for about a week to be on the safe side. Once you have undergone the microneedling procedure, your skin will often work quickly to rejuvenate and repair new tissue. Within several weeks you are going to see superb and desirable results. The best treatment is achievable by seeking several treatment sessions. You may also require several complementary treatments after the procedure. Depending on your skin treatment goals, Our doctor will develop a treatment plan that will work effectively to meet them.
What is the Optimal Care for Skin After Microneedling?
Your skin becomes sensitive and open after the procedure; therefore, you may need to avoid these things after the procedure for one week:
Sun exposure
Makeup
Retinol or other skin care products with alpha-hydroxy acids
Sweating
Makeup
After the microneedling procedure, there are ways you can make your skin heal much faster and get the best microneedling results:
Drink lots of fluids to stay hydrated
Using a cooling mask
Using an antioxidant serum
Using collagen-stimulating peptides
How Much Does Microneedling Cost?
Microneedling treatment cost often depends on several factors. This includes the sessions you intend to have, where you will get that treatment, and the area you intend to have the treatment. The type of microneedling treatment also dictates the microneedling cost. Our doctor will use two main microneedling techniques: RF Microneedling and Pen micro-needling. Other factors include:
The cost of living around you.
The skill set of a doctor.
The area of your skin that requires treatment.
The type of skin concerns.
If you want to know what you will pay, you must schedule a consultation session with our expert. At Beverly Hills MedSpa, we don't charge any fees for the consultation for skincare.
Below is the microneedling cost range at Beverly Hills Med Spa:
MICRONEEDLING FOR SPOT TREATMENT | $250
This is the cost you will pay for spot treatments in various areas of the skin. But you cannot buy a single session price as a package.
MEDIUM AREA MICRONEEDLING | $349
Opt for microneedling now for the treatment of medium areas.
FULL FACE MICRONEEDLING | $349
Microneedling can help you treat acne scars, uneven skin tone, fine lines, pits, and wrinkles and reduce the effects of large pores and sun damage. This treatment is meant for individuals who require microneedling treatment for the whole face. This means that you will need skin recovery that ranges from mild to moderate.
LARGE AREA MICRONEEDLING | $450
Inquire for microneedling in Los Angeles at Beverly Hills MedSpa Clinic to treat large areas.
MICRONEEDLING FOR FACE, NECK, AND CHEST | $500
This is the cost of microneedling if you intend to treat areas such as the face, neck, and chest.
Conclusion
Our Microneedling Treatment in Los Angeles offers the best skincare procedure for people with various skin concerns, conditions, and types. You don't need to suffer in silence if you have skin issues that require proper medical attention. We offer various skin care treatments at Beverly Hills Med Spa. Microneedling is one of the best and most modern methods that produce desirable results with just a few sessions. It is also less invasive; therefore, you don't need to worry about pain.
For any questions regarding Microneedling Treatment, you can visit our clinic. In Addition, call us at 310.359.8832, or Schedule an Appointment.

Here are a few more topics you shouldn't miss:
Does Microneedling Work To Stimulate Skin and Make You Look Younger?
Is Microneedling Treatment Worth The Money?
Like this post? Don't forget to share