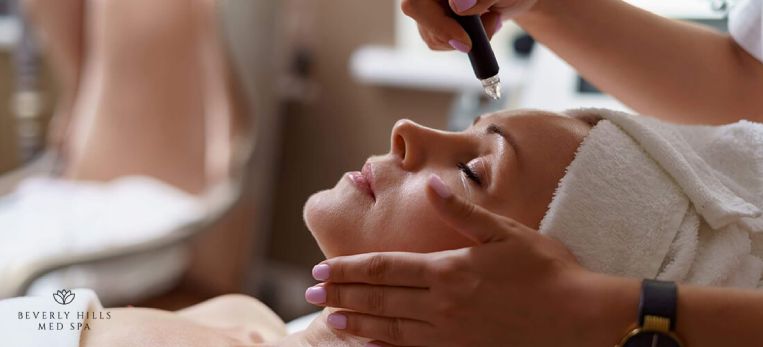 The hydrafacial treatment aims to bring a revolution in the beauty industry and leave you with refreshed and radiant-looking skin. People who wish to spend less time in the salon or the doctor's office should opt for this treatment. The hydrafacial benefits are numerous, but what leaves people wondering is the time taken by the treatment and the preparation you need to do for the same. Let us go through the 5 hydrafacial steps to help you in your skin goals and figure out What does a hydrafacial do?
What is a hydrafacial, and how does it work?
Some people also refer to hydrafacial as hydradermabrasion, a multi-step facial that strives to remove all your dead skin cells, unclogging pores, and hydration to make your skin smoother and brighter.
One significant perk of hydrafacial is that it works for everyone irrespective of age, skin tone, and type. Ever wondered how this treatment works?
The treatment combines cleansing, exfoliation, extraction, hydration, and antioxidant protection to deliver outstanding results. The physician uses specially designed handpieces to cater to the different stages of the treatment. The people will get beautiful skin with no discomfort and downtime when availing these treatments in combination.
Read More:- What is The Difference Between a Facial and Hydrafacial?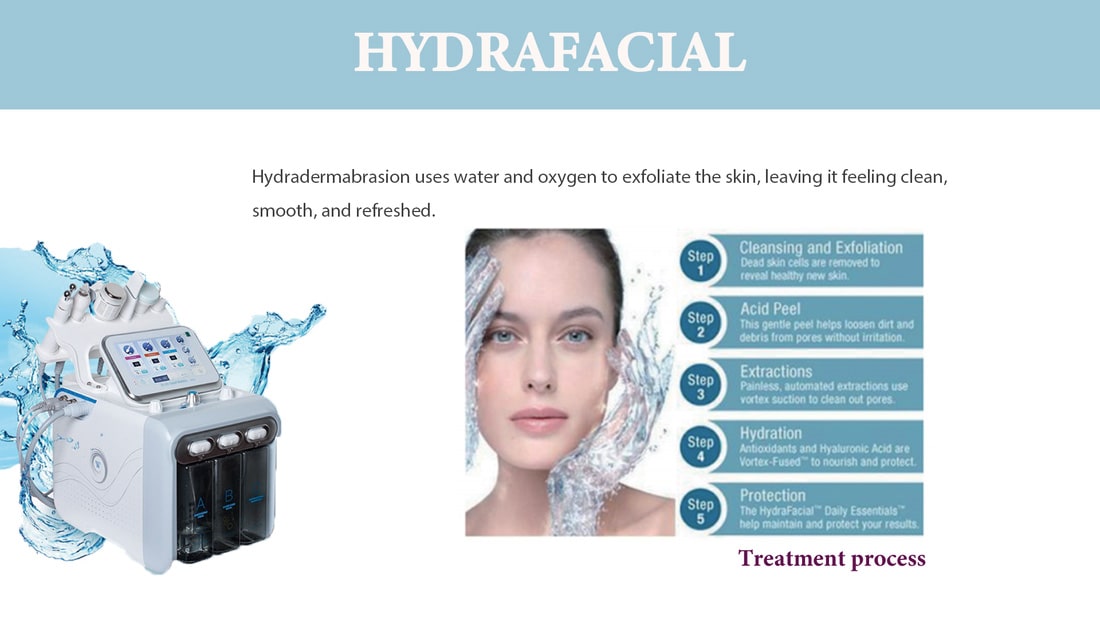 Step 1: Cleansing and Exfoliation
The first step of the hydrafacial procedure is cleansing and exfoliation. For cleansing the skin's surface, the physician begins with a small vortex exfoliation tip. The tool used here also helps open the pores while removing the uppermost layer of debris and dead skin cells.
The exfoliation of the skin's surface takes place as it keeps on moving along the face. Consequently, the cleansing process happens this way.
Step 2: Chemical Peel
The gentle chemical peel consists of glycolic and salicylic acid. Usually, the two chemical exfoliators are present in the serums used widely for the chemical peel. The sole purpose of chemical peels is to eliminate the blackheads and wipe out all the acne-causing bacteria deep within the pores.
Step 3: Extractions
There cannot be any better skincare treatment to cleanse and remove all the impurities from your skin other than the hydrafacial. Owing to the unique spiral design and powerful suction, you can hope for unparalleled and non-invasive skin resurfacing to open the pores. The physician performs the cleansing, exfoliation, and extraction procedure upon you without harming your skin. The tool helps remove dead and damaged skin cells, blackheads, and other debris. It acts as a vacuum cleaner for your skin. A cup at the base of the extraction tool is used to collect the impurities and provide patients with confirmation of the extraction process. The treatment also uses the patented vortex fusion technology to deliver the essential nutrients to your skin.
Step 4: Tailoring your treatment
It is normal for people to have their unique skin concerns, but the best thing is that hydrafacial is one such treatment tailored to meet your unique skin concerns. Whether serum boosters or suction powers, every aspect of the hydrafacial treatment can be customized to target your specific skin issues. Each treatment plan designed is based on your unique and specific goals.
Step 5: Serum application
Once you are done with the extraction, a custom serum will be applied to your skin for the custom finish. In addition to this, the vortex fusion tool is also used to infuse antioxidants and collagen-rich serums into your skin. This is done to make room for elasticity and hydration. A cooling and refreshing sensation will be felt on the newly cleansed skin by way of serums, and this, in turn, will give you smooth and glowing skin.
Read More:- What Does a Hydrafacial Do: Does It Really Beat The Competition?
Hydrafacial Benefits
People with all skin types can avail of hydrafacial treatment to improve a range of skin conditions and concerns. Here's a sneak peek into the hydrafacial benefits in the section mentioned below.
Reduced appearance of fine lines and wrinkles
Delivers hydration to the skin
Performs cleansing and exfoliation
Improves redness and inflammation
Eliminates acne
Rectifies skin's blemishes
Nourishes skin with vitamins and antioxidants
Improves skin tone and texture
It gives a bright, radiant complexion
Targets bacteria
Fixes enlarged pores
Fixes uneven skin tone
Diminishes blackheads and whiteheads
Reverses the tanning
Minimizes brown spots
Designed for all ages and skin types
There is absolutely nothing to worry about whether the hydrafacial steps will suit your skin or not, as it is ideal for all skin types. Not only this, people with acne, pimples, wrinkles, sun damage, or other issues should opt for hydrafacial treatment. The hydrafacial benefits work even for sensitive skin owing to its blending serums. Whether your skin is aged, thin, dry, or oily, the treatment works on all kinds of skins and suits all ethnicities. Do compare hydrafacial before and after pictures before scheduling your consultation.Schedule the hydrafacial treatment with Beverly Hills Med Spa by giving us a call today. Book your skin care treatment by giving us a call and witnessing changes in your skin.
HERE ARE A FEW MORE TOPICS YOU SHOULDN'T MISS:
7 Top Tips For Getting Extraordinary Botox Results
How Long Should Wait Between Coolsculpting Sessions?