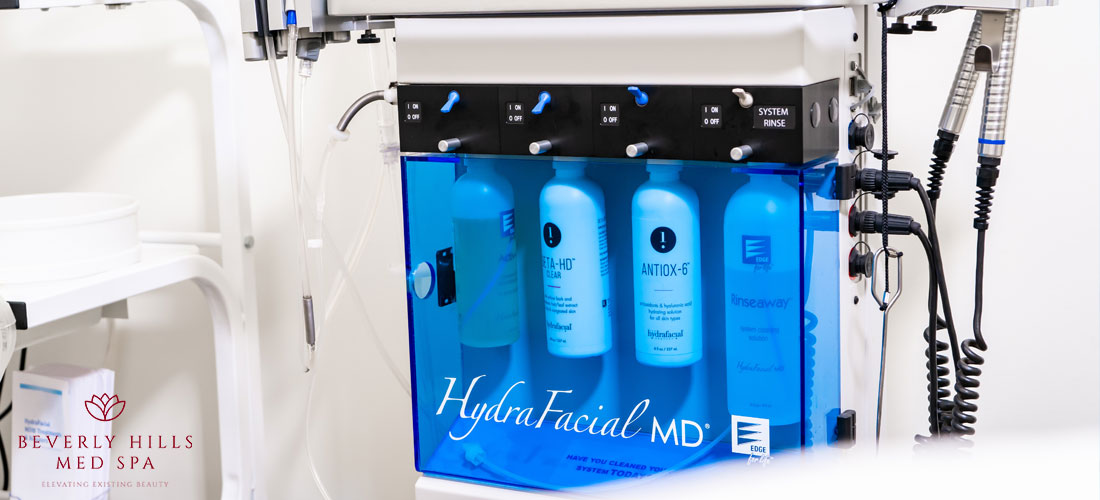 If there is any popular treatment and winning people's hearts, it is none other than hydrafacial. It is the top-rated in-office facial treatment right now. Every 15 minutes, hydrafacial gets performed. The hydrafacial benefits include dealing with skin concerns like scarring, clogged pores, acne, and fine lines.
Other skins resurfacing procedures like chemical peels penetrate the skin's layers deeply, but this is not the case with hydrafacial treatment. People of all skin types and tones can avail themselves of the hydrafacial as there are rare side effects and minimal downtime. But hydrafacials effects are less dramatic, making it vital for you to avail yourself of multiple sessions for the results to become apparent.
What Happens During The Hydrafacial?
You can easily avail of the hydrafacial treatment at the medical spas and dermatology offices as a patented skin treatment. As it involves microdermabrasion like exfoliation combined with serums, it is also sometimes referred to as hydradermabrasion.
You can treat various skin conditions with the help of this professional treatment, such as dryness, wrinkles, acne, and whatnot, as there are plenty of hydrafacial benefits.
Read on to discover more about hydrafacial benefits, side effects, and its comparison to other treatments if you are curious to know more about hydrafacial and whether it is worth your efforts or not.
Read More: Hydrafacial Aftercare: What are the Pre and Post Instructions for Best Results?
What Are The Hydrafacial Skincare Benefits?
Usually, it is said that hydrafacial brings a lot of improvement in people's overall skin texture, tone, and appearance. And it is solely due to the deep exfoliation that cleans your pores, removes debris and dirt, and allows for the much better penetration of serums in your skin. Let us have a look at hydrafacial benefits below.
Hydrafacial For Acne
Presently, there are no clinical studies to prove whether hydrafacial will be beneficial for acne or not. But it's been years since microdermabrasion techniques are considered effective for treating acne and its scars. It is solely due to deep exfoliation that wipes out all the dead and damaged skin cells.
Hydrafacial For Blackheads
One reason for people developing blackheads is dead skin cells. If this is the case with you, you can get rid of it by the exfoliating and extracting methods used in the hydrafacial. We need more clinical studies to serve as evidence of this.
Reduces Fine Lines And Wrinkles
For smoothing out the fine lines and wrinkles, hydrafacial must be your go-to treatment. By removing the thin, dry, aging skin and by stimulating collagen production, hydrafacial can reduce the appearance of fine lines and wrinkles.
Besides this, there is a noticeable improvement in your skin texture when collagen-infused serums are used. Consequently, one gets smooth, firm, and youthful-looking skin as the benefits of hydrafacial are vast.
Hydrafacial For Anti-Aging Concerns
A study conducted on hydrafacial revealed that people had significant improvement in their aging signs compared to those with only serums. Besides this, it effectively decreases the size of the pores, fixes uneven skin tone, and decreases fine lines and wrinkles.
What Are The Side Effects Of Hydrafacial?
Another reason for the increased popularity of hydrafacial is that it has minimal side effects. After the treatment, there is no obligation, and you need to take some days off from your work as the downtime is zero here. There can be some redness, but it will disappear after some time on its own. There is also no restriction on wearing makeup as you are free to wear makeup from the next day.
There is a slight possibility that serums can irritate people's skin if it is too sensitive. But as you can get the treatment customized, ask your esthetician to make certain adjustments to minimize the adverse reactions. Consequently, hydrafacial side effects are normal only and do not evoke any worry.
Read More: Why Everyone Is Obsessed With Hydrafacial Treatment?
How Much Does The Hydrafacial Cost?
Hydrafacial cost depends on several factors and differs from person to person. In most cases, the hydrafacial cost will range between $150-$350 per treatment.
The treatment will only consume 30-90 minutes of yours, but the treatment takes time also tells you the treatment cost. If the session is more extended, then the price will be high and vice versa.
Besides this, there are other factors, such as the experience of your provider and your location.
If you compare the hydrafacial cost to other treatments, then hydrafacial is considered to be average. For instance, microneedling is expensive and ranges from nearly $300 to $600 per session. On the contrary, if you are looking for something cheaper, go for microdermabrasion as it costs between $75 and $200.
But one should not select the treatment based on the price. Instead of this, the selection of treatment should be according to your skin goals.
Take The Next Step.
We will love to take your queries if you are interested in getting the treatment. For all the expected patients, there are numerous hydrafacial benefits and other services also. You can book your consultation with us by calling at 310.359.8832 or visit our contact us page to learn more about our services.
HERE ARE A FEW MORE TOPICS THAT YOU SHOULDN'T MISS:
How Much Does Microneedling Cost, Benefits, Results, and FAQs