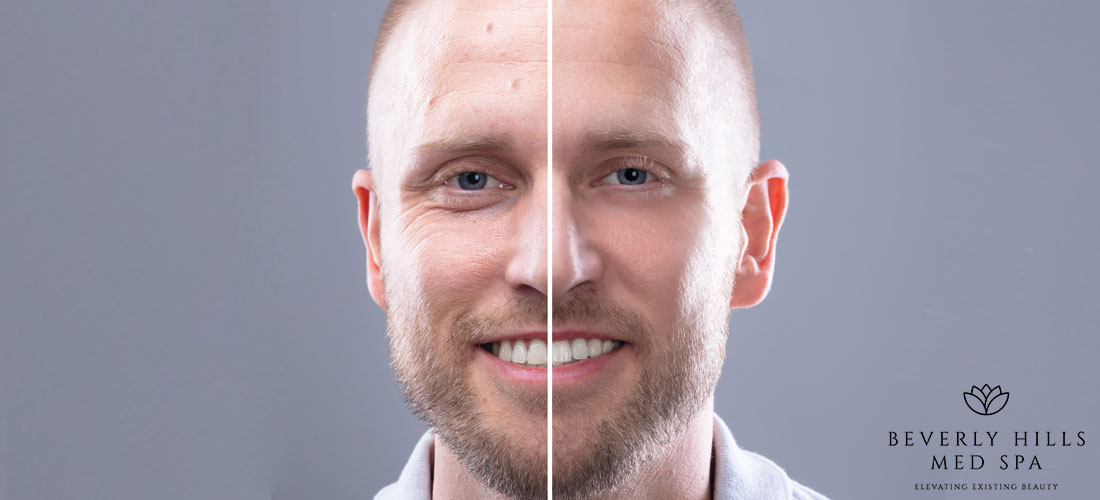 Are you also the one suffering from wrinkles, alopecia, acne, or skin pigmentation? If yes, you should also opt for the microneedling treatment as it is a great method to treat diverse skin conditions like fine lines, wrinkles, acne, sun damage, scars, etc. Above all, microneedling results are beyond excellence.
Let us delve deep into the micro needling results, its healing process, its effectiveness, and other things concerning it.
Does this treatment help with hair loss?
The answer is yes. The micro-wounds present in your skin enhance the hair follicles and encourage further hair growth. All those who underwent the treatment reported a significant improvement in their hair growth compared to those who underwent minoxidil lotion alone. The treatment has in store great benefits for you apart from improving your skin if you suffer from alopecia.
Read More: Benefits of PRP facial Treatment
Is this treatment efficient on all skin colors and types?
It's a big yes. People with darker skin tones prefer this treatment over the other types of treatments that use laser technology. The reason is simple. The dark skin absorbs the laser's light and thereby causes the treatment to be less effective. But it can also lighten the dark skin in spots. Consequently, the treatment is entirely safe for all skin types and complexions. The best thing about this is that it doesn't lead to hyperpigmentation after the treatment.
Will this treatment help fade my scars?
People do not realize but scars can provide deep damage to your skin, but one can cure this damage by boosting the collagen and elastin production in the body. After about six treatments, you'll see 60-70% improvement in the appearance of the scars. If you wish to get rid of scars in a short time, then microneedling treatment is the best for you compared to other surgical solutions. But while treating scars, bear in mind that all scars are different and so require diverse plans.
Is makeup allowed immediately after the treatment?
It is not recommended for you to wear makeup immediately after getting the treatment, but if you are bent upon using makeup, use the mineral-based foundation as this will not allow the bacteria to accumulate. But one must take care before applying your regular makeup to the treatment area, and one should wait for at least four days to wear makeup. The best we can do for you is to suggest you the best makeup brands so that it gets easy for you to maintain your youthful appearance even after the treatment.
Is this treatment safe?
For this specific treatment, FDA has only approved the skin pen. Despite other devices available in the market, we only use this equipment as it is highly safe. In addition to that, there are limited side effects of this treatment and the recovery time is also less. There is a provision for you to return to your daily activities following your sessions.
What conditions does microneedling treat?
If anything distinguishes microneedling results from other treatments, then it is the sheer volume of issues it addresses. Not just aging signs, it is also good for anti-aging concerns as it is so effective.
Fine lines and wrinkles

Scars

Skin laxity

Sun damage

Lack of hair growth
Read More : Microneedling vs Dermarolling: Which is Good For You?
How diet affects your skin
The only way to build healthy skin is to eat a healthy, balanced diet with proper hydration. From wrinkle-fighting antioxidants present in fruits and vegetables to hydrating healthy oils in fish- whatever food you eat can impact your skin as much as it does to your waistline. The food you eat gets digested into glucose, amino acids, vitamins, fatty acids, and minerals, which the body uses for survival and the maintenance and repair of your tissues. But contrary to it, if you eat a diet rich in processed foods, sugars, saturated fats, and dairy products, it will deprive your skin of the vital nutrients required for a healthy glow.
Eliminate the sugar

Consume more colors

Eat healthy fats

Drink plenty of water

Avoid dairy products

Refrain from having alcohol

Increase protein intake

Avoid fad diets
The healing process
As your body responds to these micro-injuries, your skin will heal in increments and phases. Each phase will take your skin to become stronger, smoother, and younger-looking. As these are small puncture wounds, they will heal quickly and will give you quick results.
Platelets
The foremost phase includes halting the bleeding. As such, there is no way to bleed. Your skin will be ready to face the world the moment you leave the office. These tiny pinpricks will trigger the clotting response for your body to send nutrient-rich platelets to the skin. All these are packed with growth hormones. Not only this, but it also facilitates healthy cell turnover.
Protection
Next, it will produce inflammation to protect your skin. No need to panic as your skin won't swell up, but there will be just a flash of healthy pink color on your face. The blood vessels need to open up to increase the blood flow to the treated area.
This will bring in more oxygen to your cells, and with it, there will be tons of nutrients to heal the skin. Besides this, it will replace all the dead, dull, and damaged skin cells with fresh and healthy ones.
Rebuilding
It is none other than rebuilding which brings out the real magic inherent in microneedling results. The moment your body feels the skin to be clean and stable will be the moment it will begin to rebuild. It will send the red blood cells to create new tissues. You can take this to be like you're building the house from scratch. Without any doubt, collagen is the key to lay a strong foundation. As the amount of collagen will increase, you'll notice:
Reduced appearance of fine lines and wrinkles

Even skin tone and texture

Improvement in skin laxity

Reduced appearance of acne and other scars
Collagen
People don't know that their skin is made up of 80% collagen, and it is collagen only, which gives the skin its strength and resilience. It is a kind of protein connecting the skin cells and forming strong layers. Collagen acts as a scaffold for the middle layered skin or dermis. The foundation is smooth and strong when you are young and have healthy skin.
Unfortunately, in the 20s only, collagen production drops about 1% every year. People usually take it casually, but it is enough to disrupt the dermis. Consequently, the skin gets loose and starts building fine lines, wrinkles, and acne scars.
Elastin
Another crucial protein that helps the skin to maintain its elasticity is elastin. Along with collagen, elastin also decreases. Due to the decline of elastin, the skin tends to become sag, eyebrows droop, and people start to get creepy skin around their faces and neck. Due to this, stretch marks also find their way to your skin. The only alternative available with you to rectify this is to spur up collagen and elastin production.
Hyaluronic acid
Are you familiar with the dewy and subtle look of young skin? It is nothing but the result of naturally produced sugar called hyaluronic acid. Its sole function is attracting and retaining moisture to keep the skin and allied tissues well lubricated and hydrated. But it works in collaboration with collagen, so its prominence goes on diminishing as the amount of collagen goes down.
When your skin is low in sugar, your skin will look dull, dry, and develop uneven texture patches.
How do I pamper my skin after treatment?
There are lots of skincare steps you need to take besides applying sunscreen regularly. You can use a gentle and mild cleanser to clean your face every night and morning after treatment if you use collagen induction therapy to treat acne scars. Apart from this, you can also use makeup, lotion, and other skincare products as normal ones.
People also think about taking prescription antibiotics, but these are unnecessary as the wounds don't take much time to close after treatment. But your doctor can recommend a prescription emollient. One should take only that which the physician instructs.
How many microneedling sessions do I need?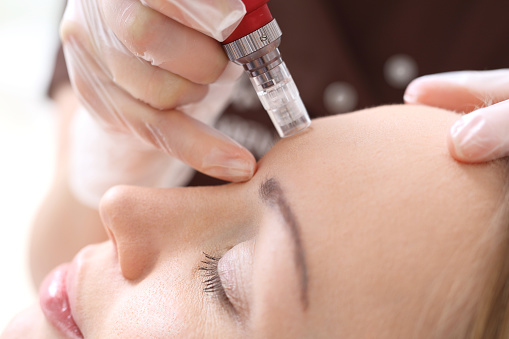 Many people ponder- How long does microneedling last? Consistency is the key, be it any cosmetic treatment. Some patients tend to see a significant improvement after a single microneedling session only. Still, most men and women have to undergo plenty of treatments spaced some weeks apart to achieve the desired outcome. Moreover, the patients suffering from more severe problems like excessive hyperpigmentation and deep acne scars might require additional treatment sessions.
How often can I receive treatment?
If you opt for collagen induction therapy, then three treatments are best to give you the most effective results. You are eligible to receive the treatment every four to six weeks. But in case you have never received this before in your life, then it will take four to six months to give you your ideal aesthetic.
Do not panic if you are unable to witness the results after the first treatment, as you'll see a noticeable improvement in your looks afterward for sure. We strongly recommend you schedule your next session appointment with us so that you do not forget it. But in case it is an anti-aging treatment, then your next appointment should be after six months. It is so because we'll find it easy then to assess your health and skin quality. Consequently, you'll find that you need only one treatment every year and not more than that.
Read More : A Simple and Ultimate Guide to Face Fillers
When will I see the outcomes of treatment?
It is not easy for people to believe that many of our clients got the results immediately after the treatment. The moment the deepest layers of the skin get penetrated by the needles, micro-wounds get created. As a result, it triggers the healing process and heals the wounds right after the treatment. But results will not be visible as fast as you expect them to be as it will take around four-six months for the results to pop up. Your body takes this much to create healthy, new, and strong collagen.
Based on the desired results, we will advise you when to expect the results during your initial consultation. There is the likelihood that you may need to wait for some months and even a year to get the desired outcome for treating burn scars. Contrary to it, if it is a cellular turnover and tissue rejuvenation you seek, the chances are that you'll notice the results in as little as two weeks.
How much will treatment cost?
Several factors collaboratively decide the cost of microneedling treatment, like several areas being treated, the size of the area, and any add-ons concerning the treatment. We will note your skin goals and your present skin health to give you an insight into how much the treatment will cost you during your consultation.
Take the next step
We will love to speak to you if you are curious to know more about microneedling results. The best you can do is compare microneedling before and after pictures and the reviews to know about the treatment. You can contact us to book an appointment today or call us at 310.359.8832 to schedule your consultation at the laser and cosmetic dermatology center situated in Beverly Hills, CA.
HERE ARE A FEW MORE TOPICS YOU SHOULDN'T MISS:
Is There any Downtime For Coolsculpting?
Botox Aftercare: Things you Should Avoid After Botox Treatment