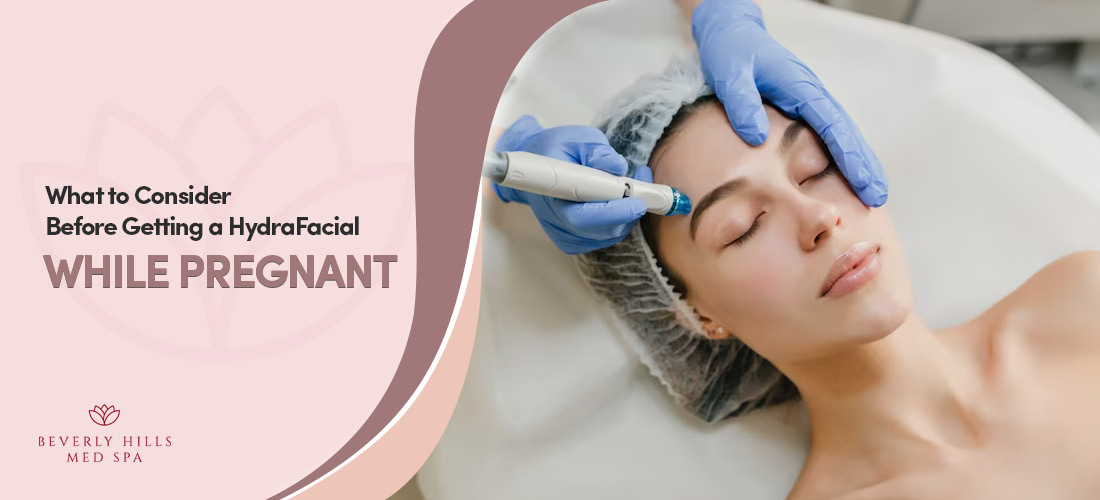 HydraFacial is a popular skin rejuvenation treatment that cleans, extracts, and hydrates the skin. This non-invasive skin care treatment fuses extraction, cleansing, and antioxidant properties. Being an effective treatment, HydraFacial is used to clean the skin profoundly and address many skin conditions, including acne. This treatment efficiently improves skin complexion, boosts skin health, and enhances overall beauty.
One of the things that makes HydraFacial such a reputable treatment is that it is a customizable skin rejuvenation treatment. It can also treat the skin based on the skin type. The doctor can make essential adjustments to address various skin care concerns.
Several adjustments are necessary to ensure the safety of pregnant women who want to use HydraFacial for skin rejuvenation. Taking proper care of the skin is one of the challenges. Failure to take good care of the skin leads to increased dead skin cells and clogging of skin pores. The therapeutic deep-cleansing that HydraFacial offers take care of all the unpleasant surprises that come with pregnancy. Skin care therapy offers multiple treatments under one procedure.
Also read :- What Should You Do to Prepare for a HydraFacial?
What are the benefits of having HydraFacial while pregnant?
During a hydrafacial treatment, a high-powered water jet removes irregularities and superficial wrinkles. Hydrafacial offers various benefits to pregnant women, including the following:
It reduces skin redness and sensitivity
It helps to remove fine lines and wrinkles
It helps to get rid of skin blemishes such as sun damage, acne scars, and age spots
Produces a better skin tone
Smoothes skin texture
Produces a flawless skin
What do you need to consider when having HydraFacial while pregnant?
As a pregnant woman, you must consider a few things before getting HydraFacials. These factors include:
Talking to a healthcare provider first – If you are considering getting HydraFacial therapy, you need to consult your healthcare provider to determine whether the treatment is safe for you and the baby.
Know the ingredients – It is also vital to know and understand the elements in a hydrafacial treatment and discuss them with your provider to determine whether it has any potential effects.
Know your health status – Before undergoing a HydraFacial while pregnant, go for a checkup to know whether you have any underlying medical condition. You can do this by scheduling an appointment with our doctor.
Health and safety should be your priority – As a pregnant woman, you need to prioritize your health and medical condition. Our staff will help you address any healthcare concerns.
Is a HydraFacial safe while pregnant?
Getting a HydraFacial while pregnant is safe. While taking extra precautions during a HydraFacial treatment, many pregnant women often wonder whether the techniques and serums used in the procedure are safe. However, some providers will recommend avoiding specific processes and products. They may also recommend substituting the products with other gentler products; besides ensuring the baby's and mother's safety, avoiding certain products also helps prevent pregnancy-related skin conditions such as heightened sensitivity. If you are pregnant, you must tell your doctor about it before having a HydraFacial treatment. This will allow the provider to customize your treatment based on your current status and skin concerns.
Should you have hydrafacial regularly?
Hydrafacial is a safe skin care therapy that works gently in addressing various skin concerns. In pregnant women, skin conditions such as hyperpigmentation or acne can occur. This treatment is perfect for addressing these issues. Before pushing forward with the procedure, you should talk to your doctor and seek guidance about HydraFacials. If you are pregnant and looking for a hydrafacial near me, you must consult our doctor, who will explain the benefits and risks involved during pregnancy. You will be advised on the best way to go if you are pregnant.
It is good to have a hydrafacial treatment regularly to get the best possible results. However, having it may also provide excellent skin care results. Beverly Hills Med Spa recommends having HydraFacials every four to six weeks. Consistent treatment allows patients to address many skin issues and concerns, including uneven skin tone and acne scars.
How Many HydraFacial Treatments Bring Out Good Results?
Patients will often experience the expected results with only one hydrafacial treatment. Besides eliminating pore appearance and acne marks, this treatment also helps to make the skin healthier and smoother. You will notice these differences immediately after treatment. The best results come when you have HydraFacials at least six times. This means getting it at least once every four to six weeks. This will not only help to make the skin healthier, but it will also give you desirable results that last for a long time.
Read More: Cost and Benefits of HydraFacial Treatment at Beverly Hills Med Spa
When is the best time to have the Hydrafacial?
During a HydraFacial treatment, lasers are used to smoothen fine lines and wrinkles on the skin. This is one of the extra benefits that other facial treatments, such as chemical peels or facials, don't offer. The type of skin and treatment required will determine the suitable time to get HydraFacial therapy.
Must read:- What Does a Hydrafacial Do: Does It Really Beat The Competition?
Enhance your pregnancy glow with the HydraFacial treatment.
Do you like how your skin glows while pregnant and want to maintain this beautiful appearance? Some pregnancies make your skin look dry and rough due to hormonal changes. Either way, getting a HydraFacial while pregnant will improve your skin in many ways based on your skin concerns and type. At Beverly Hills Med Spa, Our staff helps his patients get beautiful skin by providing hydrafacial treatments that cleanse, extract, and hydrates the skin. Schedule an appointment with us to learn more about hydra facials during pregnancy.
Conclusion:
If the question "hydrafacial safe while pregnant?" remains in your mind, we hope this article has addressed it. Getting a HydraFacial facial treatment while pregnant is generally safe. If you face any complications from having a HydraFacial treatment, the best thing to do is seek professional medical advice from a healthcare provider. If you want a HydraFacial treatment or any other anti-aging therapies, contact us today at 310.359.8832 to book your appointment.
Here are a few more topics you shouldn't miss:
Hydrafacial Aftercare: What are the Pre and Post Instructions for Best Results?
What is The Difference Between a Facial and Hydrafacial?
Like this post? Don't forget to share