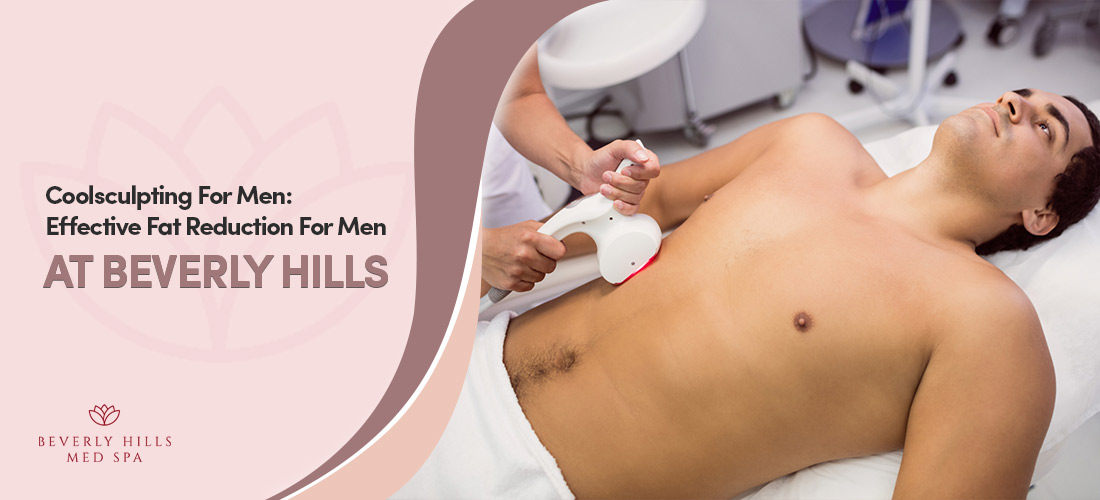 One of the most popular fat removal treatments for men is CoolSculpting. Women who want a sleek body shape can also opt for the CoolSculping procedure. This procedure for removing stubborn fat cells works perfectly for men who want to look slimmer and more sculpted. With the CoolSculpting method, men can eliminate excess fat cells that refuse to go away. Men who don't want to undergo invasive fat removal procedures but want to achieve a more toned and trimmer physique are also good candidates for this procedure.
Getting the CoolSculpting fat removal procedure ensures that removed fat cells never return once flushed out. They are eliminated permanently and cannot grow back. Guys who are near their ideal body shape but have stubborn fat cells growing in particular areas of the body are eligible for the CoolSculpting procedure. Continue reading this post to know what Coolsculpting for men is all about and what makes it a tremendous fat-removing treatment.
Why Opt for Fat Freezing for Men at Beverly Hills?
Most men succumb to fat cells that refuse to burn even after dieting or exercising. Stubborn areas the fat often accumulates include the belly, thighs, back, flanks, and submental region (chin and neck). Although the CoolSculpting procedure is gaining popularity in Beverly Hills, most men are still determining if they are eligible for this treatment.
The benefits that CoolSculpting for men offers makes it the most sought-after aesthetic treatment in Beverly Hills. All the problematic areas that form fat cells are treatable with the CoolSculpting procedure. With this fat removal technique, men can eliminate up to 24 percent of stubborn fat cells without anesthesia, incisions, or downtime. After the process, a person who has tried exercising and dieting and failed will have a lean, firm physique. Many men have opted for the CoolSculping procedure to slim a double chin, love handles, and belly bulges. All these are achieved without the risks that come with surgery.
Common Treatment Areas For Men
Fat removal needs vary for every man. However, some areas are commonly affected by stubborn fat cells. These areas include:
Love handles
Chest
Abdomen
Flanks
Back
If you have difficulty getting rid of stubborn fat cells at the gym, you can effectively target and eliminate stubborn fat cells with CoolSculpting for men in the mentioned areas. Other areas of the body that accumulate fat cells are also treatable with the CoolSculpting procedure. For more information on how the CoolSculpting procedure works, contact experts at Beverly Hills Med Spa.
How CoolSculpting for Men Works
Since fat cells are hypersensitive to low temperatures, the procedure works by freezing them. At different rates, the process changes fat content faster compared to water. With controlled cooling, CoolSculpting works by turning stubborn fat cells into pinchable fat. Very low temperatures only affect fat cells and not other water-based tissues and cells that surround them. Once the CoolSculpting procedure is over, about 20 to 25 percent of stubborn fat cells will die and get flushed out of the body as waste. This will leave you with a more sculpted physique. If you want a more dramatic outcome, you can undergo CoolSculpting multiple times because the results are long-term.
CoolSculpting for men at Beverly Hills
CoolSculpting is a noninvasive technique of fat removal that works efficiently and gently to remove fat cells in less than an hour. Our Doctor will mark the treatment areas with a surgical pen before the procedure begins. After that, he will apply a cooling gel on the skin's surface. He will then place the CoolSculpting applicator in strategic areas of the body.
A computer monitors all applicators to ensure the patient is comfortable throughout the fat-removal process. It is okay to feel a tingling, suctioning sensation during the procedure as it means that the treatment is working. The Doctor will allow you to relax by watching a film, reading a book, or napping as the treatment continues. The Doctor will remove the panels once the procedure is over. Since there is no downtime, the patient can return to their regular daily routine.
Read More: How Long Should Wait Between Coolsculpting Sessions?
CoolSculpting for Men Cost
The cost of performing CoolSculpting for men varies from person to person. To know how much it will cost you to have the CoolSculpting procedure, you must schedule a consultation with our Beverly Hills Med Spa team. During the visit, the Doctor will examine your body to establish whether you are the right candidate for the CoolSculping for men procedure.
Factors Affecting CoolSculpting for Men Cost
Number of treatments needed
The number of fat cells that need removal will determine the number of treatment sessions and, ultimately, the cost of the CoolSculpting procedure. The number of fat cells that are removed in each treatment session will determine the frequency between each treatment session. If a person wants to remove fat cells in love handles and the stomach, it will require about four to five treatment sessions because these areas have many fat cells. Areas such as the abdomen or upper arms have fewer fat cells; therefore, they will require one or two sessions. Your body will heal much faster if more fat cells are removed in a single session. This also means the next treatment session will remove more fat cells and recover faster.
CoolSculpting for men cost is also dependent on the age and gender of the patient. Compared to women, men tend to have more fat cell pockets. Men are also more likely to suffer from overweight conditions. For men to achieve desirable fat-removal goals, they need more treatment sessions. Compared to women, most men need more patience to make the treatment successful. Men need more sessions to get the best, desirable CoolSculpting results.
Another CoolSculpting cost determinant is the patient's body weight. You will require more treatment sessions if you weigh more, then you will need to undergo the CoolSculpting procedure multiple times to get rid of stubborn fat pockets. To illustrate this, here are several examples:
Treating a 250-pound man with love handles in six months will take about three sessions. Each session will cost around $800, which makes the entire CoolSculpting cost $24,000. A 150-pound man will require only two sessions spread over three months. Each session will cost $800, and $1600 for both sessions.
Another good example is a case where a man wants to treat his belly but also has excess skin in the midsection from cutting weight. Since the treatment will involve more than CoolSculpting, he must pay extra for additional procedures.
Read More: How Long Does Coolsculpting Last? Does The Fat Grow Back?
Benefits of CoolSculpting for Men
Many benefits come from having CoolSculpting for men when reducing stubborn fat cells. Among the benefits of CoolSculpting include the following:
Helps to regain self-confidence
Fat cells make you feel shapeless and unattractive. This tends to lower self-esteem. Reducing these fat cells through CoolSculpting allows you to regain your ideal body shape and boost your self-confidence.
CoolSculpting for Men Can Spot-Reduce Common Trouble Spots
You can opt for the CoolSculpting for men near me to eliminate stubborn fat cells such as love handles, flunk, belly flab, a double chin, and man boobs. In as little as 35 minutes, you can spot-reduce excess fat cells in the abdomen, chest, chin, and flunks. It is a perfect solution where dieting and exercising still need to remove fat pockets.
Produces Efficient and Effective Results
The CoolSculpting procedure is clinically tested and proved to be an efficient and effective method for removing fat cells in the body. This means you can use this procedure to eliminate fat cells in problematic areas. To be sure, you can Google before and after CoolSculpting photos to see what you should expect.
CoolSculpting offers the best fat removal treatment during a busy schedule. The procedure takes less than an hour without downtime or potential risks. You can check your email and respond to them as the procedure continues.
CoolSculpting Results for Men At Beverly Hills
Compared to other fat removal procedures that only shrink fat cells, CoolSculpting eliminates fat cells. This produces a long-term result. The procedure works by metabolizing fat cells and then removing them from the body as waste. Once the fat cells die, they will never come back again. However, after the CoolSculpting procedure, you must watch your weight by eating a balanced diet and exercising. Otherwise, new fat cells will creep in. CoolSculpting is offered at Beverly Hills Med Spa by our specialists.
Conclusion
Our specialists are an expert in non-invasive cellulite reduction and male CoolSculpting procedures. He works with a team of experts to provide Beverly Hills CoolSculpting patients with options that fit their lifestyles and budget. If you want to learn more about non-invasive fat reduction, call us at 310.359.8832 or you can visit our clinic & fill out our online form to schedule your consultation today!
Here are a few more topics you shouldn't miss:
How Much Does CoolSculpting Cost?
Cost and Benefits of CoolSculpting Treatment
Like this post? Don't forget to share