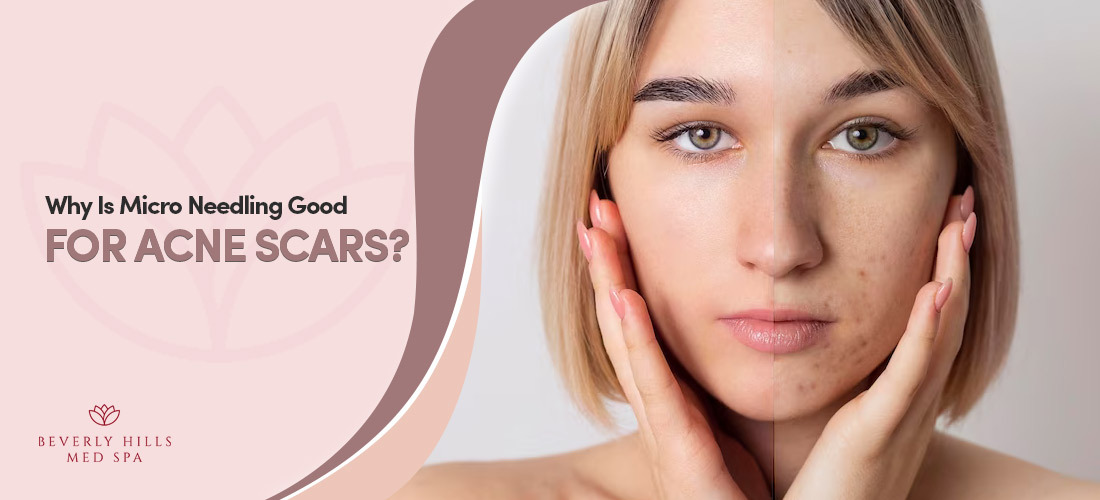 You are not alone if you struggle to get rid of pockmarks and acne scars. These skin conditions are quite annoying if you don't have an effective solution to remove them. You may opt for DIY skin care options such as masks and topical serums. The problem is that these options don't work very well for everyone. To effectively stop acne and acne marks from occurring on your face, you need to seek professional help from a dermatologist. A licensed aesthetician is also a credible specialist to consult if you have acne issues. Most of these specialists will recommend micro needling for acne scars.
Beverly Hills Med Spa offers patients before and after photos to help them understand what to expect after a microneedling face care treatment. This is an effective treatment for eliminating and reducing the effects of acne scars. Microneedling works by encouraging new collagen growth. This helps to reduce skin conditions such as acne scars, boxcars, and ice pick since collagen promotes speedy skin recovery.
For greater knowledge of how micro needling for acne scars works in reducing skin blemishes and other skin concerns, continue reading.
What makes microneedling effective in treating acne scars?
You can easily tell from its name that microneedling involves needles. The microneedling device has several tiny needles between 0.5mm and 1mm. The work of these small needles is to puncture the skin. By doing so, they create micro-wounds. The tiny injuries inflicted by the derma roller are hardly visible. Once this happens, it triggers the body's healing process, whereby collagen forms to repair damaged tissues. Newly formed collagen will not only heal the skin, but it will also smoothen the skin by filling wrinkles, acne scars, and fine lines. Micro-needling for acne scars is an effective treatment for treating skin conditions such as:
Stretch marks
Sun damage
Surgical scars
Acne scars
Burn scars
Large pores
Hair loss
Sagging skin
Melasma
The collagen-inducing effect is what helps to treat all these skin issues. Excess collagen develops in acne-prone skin when scars form. Several studies have shown that the microneedling treatment works even better when fused with other treatments such as PRP and Vitamin C. Other less invasive skin care treatments, such as laser therapy, are not as safe or as effective as microneedling when dealing with darker skin tones. The reason is that micro needling for acne scars does not remove or damage the outer skin layer. That is also why it is a safe treatment for treating sensitive and thin skin.
Read More: Everything You Need To Know Microneedling For Dark Skin
Five key micro-needling benefits
This skin care treatment is quite popular as many prefer non-invasive facial treatments. Another reason for getting this skin care treatment is its ability to treat all kinds of skin concerns and types. It can also effectively treat sensitive skin and darker skin tones. The five key benefits of micro needling for acne scars include the following:
Enhances the texture of the skin
When a person reaches 30 years old, two vital components start to reduce. They include elastin and collagen. Microneedling triggers the production of elastic and collagen in response to skin healing. Once the skin is punctured during the microneedling, collagens come to the rescue by closing the micro-wounds. Once the doctor completes this treatment, you will notice that your skin will become smoother and softer.
Eliminates scars
The same way that microneedling works in healing the micro-wounds with the derma roller device in the same way it improves the skin's overall texture. The body goes through fibrosis when a scar occurs. This will create irregularities in the skin's surface by pulling it down. Hyperpigmentation may also occur due to blackheads, pimples, or whiteheads. Micro needling for acne scars helps to treat any blotchy appearance on the skin's texture.
Reduces acne, including blackheads
People with acne-prone skin are the biggest beneficiaries of microneedling treatment because it helps treat blackheads and acne. The source of recurring blackheads is removed thanks to poked holes from the sterilized derma roller device. This usually happens on the upper layer of the skin. Once the procedure is done, the pores will reduce around the nose and other facial areas.
Reduces the effects of fine lines and wrinkles
Reducing the effects of fine lines and wrinkles is another great benefit of opting for the microneedling treatment. While healing the tiny wounds inflicted by the derma roller device, the treatment also helps to eliminate fine lines and wrinkles. Growth factors manifest when the device punctures the dermis. This allows the skin to heal quickly. The results will be tight skin with reduced effects of wrinkles and fine lines.
Reduces signs of aging and looks younger
Reducing aging signs is another awesome benefit of microneedling. By adding this treatment to your self-care routine, you can temporarily turn back the hands of time. This treatment is quite effective for getting rid of aging signs. It helps to tighten the skin to minimize wrinkle signs, frown lines, sandbags, and fine lines. When you fuse this treatment with potent antioxidant serums, your skin will always look youthful, plump, and luminous. Vitamin C is one of the best serums in micro needling for acne scars.
Microneedling Results
Even if you don't have acne issues, you will notice a big positive effect on your skin. In many instances, noticeable results show after several treatment sessions. Among them is the reduction of acne scars. Other results include fewer pockmarks and an even skin texture and tone. You will also realize that the skin is tighter, smoother, and brighter. Seamless results will appear after three to four sessions. After that, you can attend a reputable Med Spa for annual checkups.
Cost of microneedling for acne scars
Although dermatologists often perform this needle treatment for acne, it is hardly covered by health insurance. It is not a medical skin treatment but an aesthetic one; therefore, it isn't necessary. In most cases, microneedling cost is often determined by the location and the provider. The average amount you will pay for a microneedling procedure is about $300. This amount is only charged for a single session. If you are going to have several sessions, then you are going to multiply this amount by the number of sessions. You may also choose to perform microneedling at home with a derma roller, which only costs about $100. However, performing this treatment at home won't give you the best desirable results.
Final Say
If you are concerned about how to treat your acne scars, then you can choose micro needling for acne scars as a treatment. It will help you out of your skin problem and save your finances. So, go on with it!
If you want to get rid of those unwanted acne scars, schedule a consultation with Beverly Hills Med Spa experts and learn about the same. Otherwise, you can also contact us to fix your appointment at 310.359.8832 to learn about microneedling acne scars.
Here are a few more topics you shouldn't miss:
Does Microneedling Work To Stimulate Skin and Make You Look Younger?
Is Microneedling Treatment Worth The Money?
Like this post? Don't forget to share