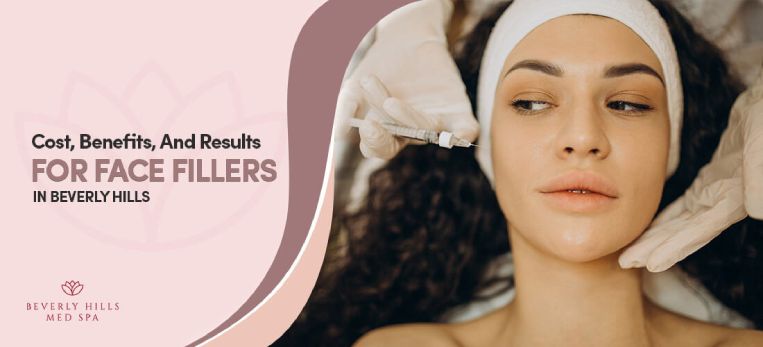 Among the most requested anti-aging procedures today are face fillers. What makes them popular forms of facial treatments is how they make it easier for you to make quick improvements. Face fillers work by replenishing lost volume and ironing out facial lines. Besides smoothening aging signs, face fillers can also be used to nagging imperfections such as facial asymmetries and shallow scarring. Face fillers can remove the early signs of aging when used as a standalone facial treatment. They can also be used to enhance results in facial rejuvenation therapy. Before starting the treatment, ask your provider about the face fillers cost.
Benefits of Face Fillers
The benefits that come from using face fillers are many. Face fillers can help you fulfill these enhancements:
Facial harmony and beauty
If you want to improve symmetry in the entire face, then face fillers will do the trick. With no downtime, you can fuse Botox injection and face fillers in a combo treatment called "liquid facelift." The treatment will take about 30 to 45 minutes, and it is aimed to increase attractiveness by improving volume and harmony. It is an ideal treatment for a person who does not want surgery. Our experts will explain everything about face fillers cost before the procedure starts.
Youthful and well-rested appearance
Fillers are also excellent treatments for smoothing wrinkles and restoring lost volume in the face. If you want to look well-rested and alert, under-eye fillers will reduce the dark circle's appearance under the eyes.
Enhanced facial contour
Filler is a non-surgical solution that allows you to add volume and prominence to your jawline, chin, and cheekbones. The treatment lasts for 30 minutes and produces instant results.
Restore lost volume
Facial volume loss is among the most apparent signs of aging as a stern appearance. This will take time to manifest naturally. Face fillers will help you restore your youthfulness when these signs show up. Restoring volume to the face requires face fillers to work in different ways. Once you have undergone this anti-aging treatment, it will restore volume to your face, giving it a youthful look.
Reduce wrinkles
When we reach adulthood and continue to grow older, wrinkles start forming on the face. Face fillers are usually used to enhance the volume of your face by reversing the effects of wrinkles. Through these skin care treatments, new facial contours will stretch. Face fillers don't offer permanent solution signs for aging. However, if you want to get the best out of this skin rejuvenation therapy, then you must perform it.
The Results Look Natural
Face fillers cost is quite affordable. After undergoing face fillers, you should expect results to be quite natural. The active ingredients found in our facial fillers are bound to work effectively. The skin's foundational layer comprises a chemical compound called hyaluronic acid. By adding volume, it irons out wrinkles on the skin. Another compound found in the skin's foundational layer is known as collagen. It's a protein component that keeps the skin hydrated, youthful, tight, smooth, and healthy. We prioritize your health and safety, so we formulate our face fillers with collagen, which is safe for human consumption. What makes it even better is that our face fillers promote collagen formation. You can also ask about cheek filler cost if you want to treat that section.
Read More: How Long Does Botox Last in Your Face?
How Much Do Face Fillers Cost?
Just like any other cosmetic treatment, face fillers cost is often pegged on the patient's skin type, concerns, and condition. The cost of treatment will also be influenced by the number of face fillers necessary to make the treatment successful. Full face fillers cost in Beverly Hills Med Spa depends on the following:
The kind of face fillers used
The brand of face fillers
The severity of the skin condition
Experience of your provider
The cost of living in that particular location
If they offer any specialty on face fillers
The area of the body that requires treatment
Result At Beverly Hills Med Spa
If you can't take our word for it, you can at least go through face fillers before and after photos to get a clear picture of what to expect from our anti-aging treatment before committing, including mid-face fillers cost.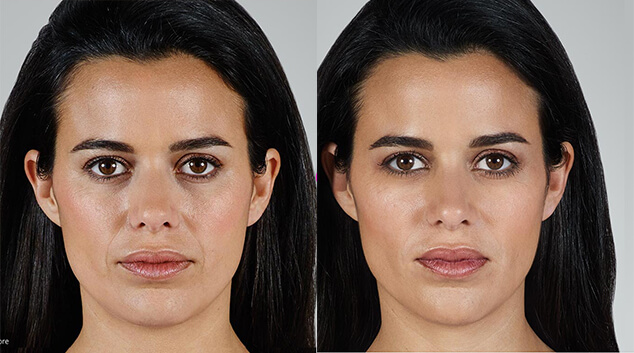 Why Beverly Hills Med Spa for your FaceFillers Procedure?
Our team of esthetic experts dedicated to providing clients with the best possible skin rejuvenation and anti-aging treatments that guarantee desirable results. Our facility is where you need to be if you want to achieve all your aesthetic goals. Not only will you boost your self-confidence. At Beverly Hills Med Spa, you will find a team of experts who are highly experienced and always ready to do whatever it takes to make you achieve your aesthetic dreams.
Beverly Hills Med Spa has a team of aesthetic experts that consists of a Board Certified Beverly Hills Plastic Surgeon, an Aesthetician, and a Registered Nurse. They are committed to offering patients the best and safest surgical and non-surgical cosmetic treatments. Our state-of-the-art med spa has modern outpatient treatment suites, a surgical section, and cutting-edge cosmetic equipment. We also make our treatments as natural-looking as possible. While ensuring your safety first, we propose to help with all your aesthetic goals by making your stay with us as comfortable as possible.
What Results Can I Expect?
Once you've undergone our face fillers therapy, you will instantly notice a significant improvement in how youthful your skin will look. After a few days, you will experience the moisturizing effects of the HA molecules. You will also notice youthful curves, creating supple facial contouring. Long-lasting results also include a glowing appearance, facial volume restoration, and diminished lines and wrinkles. Be ready to experience instant results, whether your goal is to diminish fine lines and wrinkles, tighten up sagging skin, or plump up lost facial volume. Despite varying skin types, results are often seen within 24 to 48 hours after treatment.
Conclusion
We will take a few minutes to perform face fillers therapy. Once he is done, results last for months. For an indefinite effect, you can keep on scheduling face fillers sessions. Men and women who want to enhance their appearance can rely on our face fillers to deliver excellent results. The good news is that you don't need surgery, anesthesia, or a recovery period once you have undergone face fillers therapy in our clinic. For more information on which face filler is the right fit, contact Beverly Hills Med Spa at 310.359.8832.
If you have any questions, please don't hesitate to contact us using our contact form below.
HERE ARE A FEW MORE TOPICS YOU SHOULDN'T MISS:
Cost of Botox Treatment in Los Angeles
7 Top Tips For Getting Extraordinary Botox Results
Like this post? Don't forget to share